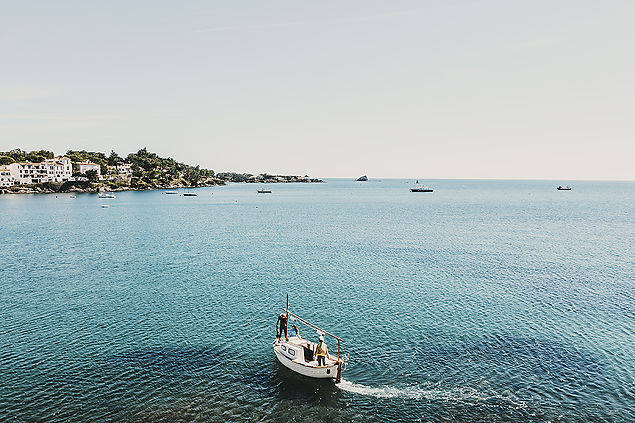 Come to discover the most beautiful corners of Empordà and Gerona!
We have planned to provide all our visitors with full-day tours to make the most of it and get to know the most beautiful corners of the area.
Most tours are quite intense, therefore, if you wante to make more relaxing days it would be better to make a selection or split the route in two days.
You also have to take into account that they are routes that should be started early in the morning so as not to to be stuck in atraffic jam, especially on the coast routes.

Route 1:
Stop 1 - Camino de Ronda leaving from this point https://goo.gl/maps/A7DrwrKfzt9zouhz7 after Almadrava beach and walk to Cala Murtra (1 hour route).

Stop 2 - Cala Murtra relax, swim and enjoy this beach. You can then decide whether to continue or take the car to go to the next stop.
Stop 3 - eat at Cala Jóncols (on Sunday afternoons they make live music) or at Cala Pelosa. I recommend both to eat paella(rice) or fideuá (noodles) but you need to make a reservation before. If your budget is limited, you can picnic on the beach.
Route 2:
Stop 1 - Cadaqués - visit the town (Attention in high season! Go early in the morning or at sunset because there is a lot of traffic. To park, there is an open area towards Portlligat where you can find a place. The following link will lead you to this parking:https://goo.gl/maps/wCAbg2YTdHNj1gi58
Stop 2 - Dalí's house in Portlligat (book in advance)
Stop 3 -
There are different routes:
A) Natural Park of Cabo de Creus , it is a walking route starting at the Paratge de Tudela https://goo.gl/maps/JXrGECSZxRWuqapGA till Cala Culip https://goo.gl/maps/qkiT8LqXRiRjoWHJ6 .
B) Park the car at el Faro del Cabo de Creus https://goo.gl/maps/K7LpsprkGeqwXCZq7 and go walking till the Cueva del Infierno https://goo.gl/maps/C1Lu5DDW3EFrbG9bA .
.
C) Park the car at this point: https://goo.gl/maps/e3RZuttCXm95SAch7 and walk down to the Cala Jugadora https://goo.gl/maps/e3RZuttCXm95SAch7. One of the most beautiful coves on the Costa brava.
Stop 4 - Have a drink while listening to live music at the Cabo de Creus Restaurant (very recommended)
Stop 5 - while coming back you can visit the Sant Pere de Rodes Monastery.
Route 3:
Stop1 - visit the town of Sant martí d'Empúries, you can swim and walk along the path that leads to Escala (highly recommended if you have time).

Stop2 - visit the town of Peratallada (TOP 1 medieval town)

Stop3 - visit the historic center of Pals town (TOP 2 medieval town). In summer they do the White summer festival (to be confirmed with the covid) which is very beautiful if it coincide with your holidays dates , from the end of July to the third fortnight of August approximately.



Route 4:
Stop 1 - Visit the Casco antiguo of Girona
Stop 2 - back go to Dalí Museum in Figueres (Booking in advance )
Stop 3 - visit the medieval town of Peralada and the Castle. If interested, there is a golf course and a casino.
Route 5:
Stop 1 - rent an electric boat through the Empuriabrava canals (discount on ECO-BOATS if you notify that you are coming from Vista Roses Mar)
Stop 2 - have dinner in the medieval town of Castelló d'Empúries (it is recommended the Portal de la Gallarda Restaurant)
Stop 3 - visit the beautiful Butterfly park for all ages.
Stop 4 - visit the Aiguamolls del Empordà . In the following link you will find different routes. We recommend itinerary 1:
https://www.google.com/maps/d/viewer?mid=1nO5F7RBtYQlaDxYauOw2nQbH-Gs&ll=42.23412494800053%2C3.1114613878757025&z=13
Route 6:
Very intense day, starting early in the morning and making visits quickly it would be possible to do everything. Otherwise, it could be done in 2 days.
Stop 1 - visit the medieval town of Besalú
Stop 2 - visit the basalt cliff (precipice) of the town of Castellfollit de la Roca. One of the most spectacular natural phenomenon I have ever seen. If you want, you can buy the can Ruset muffins that are well known in the town.
Stop 3 - choose one of the volcanoes in the Garrotxa Natural Park (Volcano Sant Margarida is the best known) and climb it.
eat - Els Ossos Restaurant (book in advance) - try the famous Potatoes of Olot.
Stop 4 - visit the beech forest Fageda de'n Jordà, it is very beautiful all year round but in autumn even more.
Stop 5 - visit one of the best-known medieval towns in Catalonia, Santa Pau.
Route 7:
Stop 1 - route of rivers in the Muga river next to Albanyà.
Stop 2 - visit Sant Llorenç de la Muga
eat - at Trull de'n Francesc restaurant in Boadella i les Escaules.
Stop 3 - play Soccer Golf in Maçanet de Cabrenys
Stop 4 - have a wine at the Agrobodega El parral in Capmany
dinner - summer nights on the terrace wrapped in vines at the Molí de Vent restaurant in Garriguella. Friday night there is live music.
In this link you can find the map with all the routes: 7 itineraries for 7 days on the Costa Brava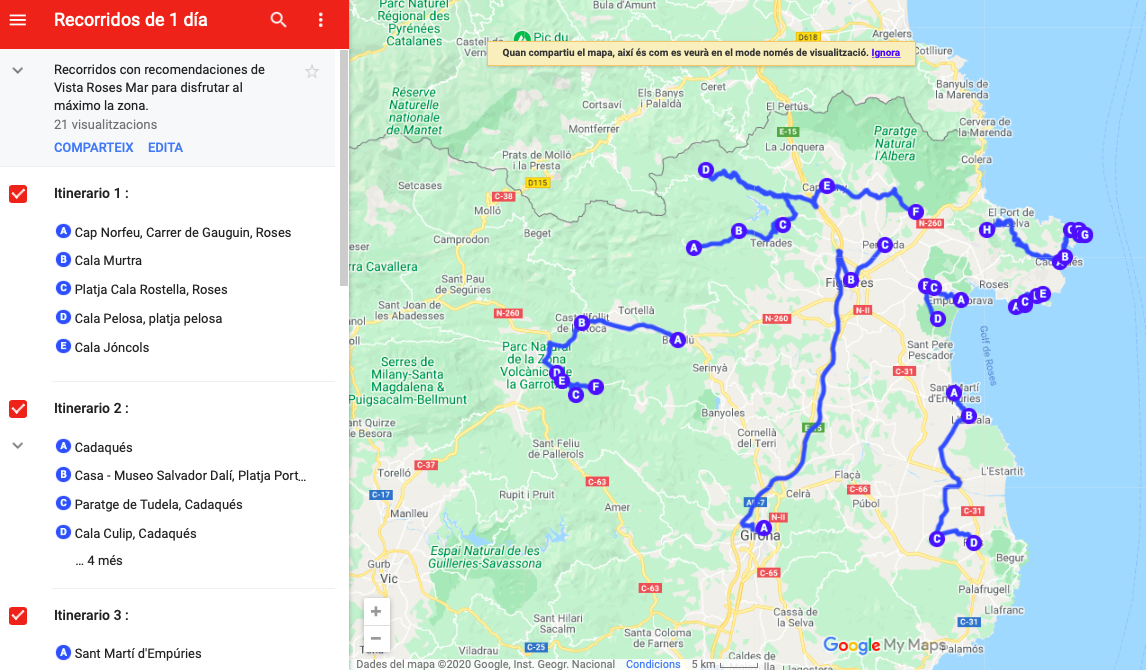 I hope these tours have been useful, if you have new recommendations you can send an email and we will make changes :)
If you need a place to sleep you can check our touristic houses and apartments that we have in Rosas.